Welcome to Vectorbomb Ltd's Sizing Guide
To help give you a more informed purchase we have created these easy to understand sizing charts.
To ensure your item will fit simply measure your exisiting tshirt (laid flat) as the image below shows. Measurement A is from armpit to armpit, giving you the full width. Measurement B is from the Neck to be the base of the t-shirt, giving you the length.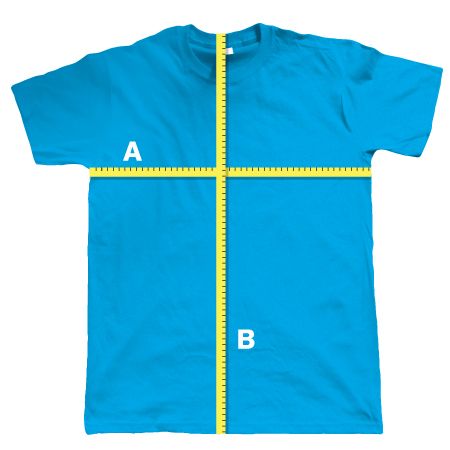 Mens T Shirt:
| | | |
| --- | --- | --- |
| Size | A (Width) | B (Length) |
| S | 17.5" (44.5cm) | 25.75" (65.5cm) |
| M | 19" (48.5cm) | 27.5" (70cm) |
| L | 21" (53.5cm) | 28.5" (72.5cm) |
| XL | 23" (58.5cm) | 29" (73.5cm) |
| XXL | 25" (63.5cm) | 30.5" (77.5cm) |
| XXXL | 27.5" (70cm) | 32" (81cm) |
| 4XL | 29.5" (75cm) | 33.5" (85cm) |
| 5XL | 31" (79cm) | 34" (86cm) |
Womens T Shirt:
| | | |
| --- | --- | --- |
| Size | A (Width) | B (Length) |
| S | 15.5" (39cm) | 24.5" (62cm) |
| M | 16.5" (42cm) | 25.5" (65cm) |
| L | 18" (46cm) | 26" (66.5cm) |
| XL | 19" (48cm) | 26.5" (67cm) |
| XXL | 21" (54cm) | 27.5" (70cm) |
Unisex Hoodie:
| | | | |
| --- | --- | --- | --- |
| Size | A (Width) | B (Length) | Sleeve (Length) |
| S | 20" (51cm) | 26.5" (67cm) | 23.25" (59cm) |
| M | 22" (56cm) | 27.5" (70cm) | 23.5" (60.5cm) |
| L | 24" (61cm) | 28.5" (73cm) | 24.5" (62cm) |
| XL | 25.5" (65cm) | 26.5" (76cm) | 25" (63.5cm) |
| XXL | 27" (69cm) | 31" (79cm) | 25.5" (65cm) |
| XXXL | 28.75" (73cm) | 32" (82cm) | 26" (66.5cm) |
| 4XL | 30.7" (78cm) | 34" (86cm) | 30" (68.5cm) |
| 5XL | 32.5" (83cm) | 35.5" (90cm) | 27.5" (70.5cm) |