About F.Hinds
Perhaps you have noticed F.Hinds on one of many high streets and in shopping centres across England and Wales - and I hope we have had the pleasure of serving you in one or more of our 110+ branches.
Established in 1856, our independent, family owned and run business is celebrated 150 years in 2006. We offer an extensive selection of diamonds, gold and silver jewellery, watches, clocks, collectibles and giftware and we're told we have an enviable reputation for friendly and professional customer service.
We are proud that this standard of service, selection, quality and value is also available online. Our high street presence and long history should also help to give you the confidence to purchase online from us.
We care about our customers, and aim to assist you in every way we can to make shopping with us easy and relaxed.
Online since 1997, we've fulfilled thousands of Internet orders, including engagement rings, wedding rings and important presents, as well as watches, jewellery and gifts at every price.
Interesting History – optional additional content page
Early Years
The Hinds family history in the Jewellery and Watchmaking industry started in 1825 when Joseph Hinds opened a clockmaker's shop in Stamford, Lincolnshire. Joseph's charges were modest even for those days, with watches and clocks being cleaned for as little as a shilling, and he was successful. His responsibilities included maintaining the clock in at least one of Stamford's many famous churches.
Joseph, who had moved to Colchester, apprenticed his son George to a watch escapement (workings) maker. George in turn moved to London as a watchmaker and in 1856 opened on the Harrow Road in Paddington, moving to Edgware Road in 1876 when the original shop was demolished in a road-widening scheme. Over the next 50 years, several members of the Hinds family followed Joseph's example, opening shops throughout the capital.
First World War
By the turn of the century the company was being successfully steered by Joseph's grandson William, with his great grandsons William, George and Frank joining in the years leading up to the First World War. William Hinds (Senior) died in 1915 and his son George was killed in 1916 at the Battle of the Somme.
The remaining brothers William, who had continued to run the business, and Frank, who had survived the trenches, had different views of how to progress. In 1924 they split the company into 6 shops each, although relations between them remained cordial in spite of their rivalry and they retained branches opposite each other in King Street, Hammersmith.
Horror!
William continued with his jewellery shops, now called W. Hinds, and diversified into other areas such as barbers and cycling shops. He also bought seaside theatres and went on the stage under the name of Will Hammer (a contraction of Hammersmith). When he started making films a few years later he called the company Hammer Productions which became a world famous studio with a cult following for their horror films!
Frank however, concentrated on the jewellery business. He prospered in the boom of the late 1920's, opening a new branch in Bristol and replacing many shop fronts, and was prudent during the 1930's depression.
The war years were as hard for F.Hinds as they were for the rest of the country, but they were able to contribute to the war effort by, amongst other contracts, modifying 8-day clock movements to produce timing devices for bombs.
Post War
It was soon back to business as usual, and a fifth generation of Hinds entered the jewellery trade. In 1947 Frank's elder son Eric joined the firm, followed by his brother Roy in 1950. A year later the firm moved to new headquarters at 194 Goldhawk Road in Shepherd's Bush, London.
The firm continued to expand even though Frank Hinds died in 1963. By 1973 it had 47 stores throughout south and central England. Eric Hinds was responsible for property and Roy for personnel and they shared the job of selecting the ranges the company sold with Ernest Stocks, who had joined at the age of 15 in 1923.
Roy's elder son David joined the business in 1981 and Eric's son Neil in 1985, the year when the company introduced a new style of shop design and began to expand again significantly. In 1989 Roy's younger son Andrew joined, making three family members in the new generation.
Bill Hinds, Eric & Roy's cousin, who had continued to own jewellery shops even after the sale of the W. Hinds business in the sixties, died in 1989. His widow was left with one shop, in Worthing, which she sold to F.Hinds in 1990. This was, in some respects, a rejoining of the 2 sides of the family that had parted over 65 years earlier!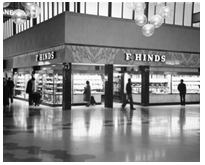 F.Hinds Today
There are now over 100 stores across England & Wales from Darlington to Torquay and Carmarthen to Norwich. F.Hinds is now the largest independent jeweller in the UK, with nearly 1,000 staff serving over 2 million customers every year.
However, the company's aims have changed little in almost 150 years - to offer an extensive choice of jewellery and gifts, while maintaining the quality, value and level of service that you would expect from a family business.
The opportunity to visit a branch, to shop by mail order or through this website reflects the commitment to provide the products customers want at competitive prices and to allow them to choose the most convenient way to shop.